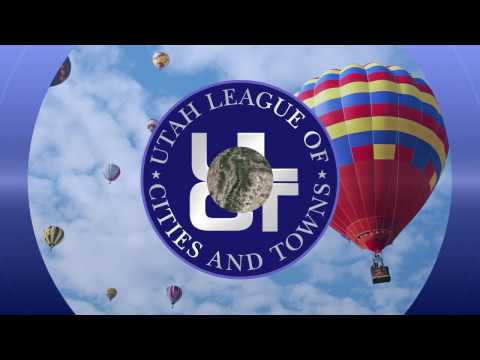 View 7 Items

BrandView
This story is sponsored by Utah League of Cities and Towns.
Click
to learn more about Utah League of Cities and Towns.
Every year as the temperatures warm, more Utah communities delight their residents with a spectacular balloon festival. The small city of Salina in the central part of the state is one of those communities. In fact, residents are joined by former residents, friends, and tourists for the annual "Eyes to the Sky Festival."
The event also attracts top notch balloon pilots, like veteran Ted Hunsaker. He, and other pilots, enjoy coming to Utah to fly because of the unique qualities so many communities in the state offer. Hunsaker likes the fact that the terrain is very open. He also likes the people. "The people are awesome," he says. "The flying's a little breezy at first but it calms down and all the farmers and everything are so willing to let you land in their fields and that makes it so much easier for us."
After crew members and volunteers lay out the huge balloons at 6:00 am on a large, open field, and the wind conditions are closely monitored, it's time to take to the sky. Hunsaker cautions, "It's going to be a little windy." He tells his passengers, "We may rock back and forth. You can scream if you want, that's ok."
As the basket floats through the sky, and the flame keeps the balloon's elevation at optimum levels, Hunsaker describes the feeling many experience while riding in a balloon. "Regardless of your money or your lifestyle, once you get in a balloon, people have the same excitement."
Salina Mayor Dustin Deaton, who's along for the ride, says, "It's a lot of fun. It really is. Everybody loves the festival. It bring a lot of people in and it's exciting."
The Salina festival draws crowds from all walks of life who enthusiastically line up along country roads and in neighborhoods along the route.
As Hunsaker's balloon moves toward Redmond Lake, he tells his passengers, "I'm hoping we'll make it to the water, maybe skim over it, and then we'll climb up and maybe give you a little view of the valley." A short time later, the screams that he lightheartedly invited prior to flight followed as he strategically lowered the balloon's basket to gently brush along the water.
A well run festival can boost community spirit as well as the city's budget. Restaurants are usually packed and motels are filled. Business owners can definitely feel a boost.
The balloon ride is followed by entertainment and food trucks in the heart of Salina, where young Dean Bangert, spends time with his parents and grandparents. He explains, "We can play here and have some fun with our families."
A festival like this can also put a small community like Salina on the map as a place to go for new adventure and place to return for those who once called Salina "home."
Read more from the Utah League of Cities and Towns on DeseretNews.com or visit their website at ulct.org.