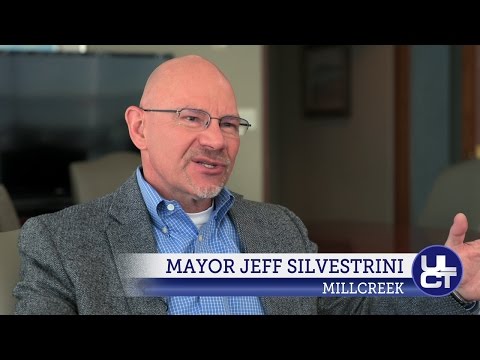 View 2 Items

BrandView
This story is sponsored by Utah League of Cities and Towns.
Click
to learn more about Utah League of Cities and Towns.
On December 29, 2016, Millcreek became Utah's newest city. The shine on the momentous occasion lasted for just a few fleeting moments before the staggering reality kicked in about all the work that needed to be done to get the city up and running.
Mayor Jeff Silvestrini explained, "I think our residents expected that on January 1, a switch would be flipped and all of the sudden we would be our own fully functioning city. But what people don't realize, there's a process of starting a city and it takes time to get the revenues flowing in."
An attorney by trade, Mayor Silvestrini reports that he is working as hard or harder than he did when he was a young pup lawyer, putting in long days to get the new city functioning. Hard work is particularly necessary because the new city has no money available and won't be able to tap into revenue until September. The fiscal challenges have forced the mayor and city council to come up with creative ways to get things done, while relying heavily on the generosity of Millcreek residents and vendors.
"We've tried to leverage everything we can," said Silvestrini. "We've negotiated with our sewer district, Mt. Olympus Sewer District, for free office space for six months. And we've had a number of vendors who are providing service to us agree to forgo payment until we actually have money. Our city attorney, planning consultant, and accounting manager are all working on the premise that we'll pay them when we get money. It's been terrific that we've had people willing to help us like that."
It doesn't surprise the mayor or the city council that the entire Millcreek community has rallied around helping contribute to the newly formed city.
"Millcreek is a very engaging community. The residents are involved. They come to meetings, express their opinions, and try to devise solutions that work for everybody," said the mayor. "The sense of community and spirit of volunteerism really make Millcreek stand out."
In the four months since the city's incorporation, Mayor Silvestrini and the Millcreek City Council have learned a lot about starting a city from scratch. And while Millcreek still has a ways to go to become fully established, the people involved in the city have learned many valuable lessons.
"The best advice I would give to new cities that are just starting out is to have patience," Silvestrini said. "Don't rush into decisions. Let things come to you. If you act in a steady, deliberate way, you're less likely to make mistakes and get things right the first time."
Acting in a slow, thoughtful manner is an important part of the equation when starting a city, another key aspect is to utilize creativity and innovation. Silvestrini explained, "Starting a city is a creative processsomething you should enjoy. You get the opportunity to design the city you'd like to have, rather than trying to change something big and unwieldy, like a ship at sea that turns only incrementally and gradually. You get to be creative and inventive about the process, and incorporate new technology into your city government."
Millcreek has utilized social media and the internet to be more open and responsive to its residents, and has been streaming council meetings on Facebook Live since day one. "Using Facebook Live is an effort we're making to involve more people in the process of government and to be more transparent," said Silvestrini. "We feel it's the right thing to doand it doesn't cost us any money."
With hard work, community engagement, and innovative thinking, Millcreek is moving in a positive direction, taking the time necessary to manage the small details of running a city, while still keeping one eye squarely on the big picture for the future. The city plans to develop a long-term strategy by engaging in a visioning process and interacting with residents like never before. "We want the citizens of Millcreek to tell us what they want their city to look like in 20 or 30 years," said Silvestrini.
The city plans to engage residents at street fairs, the Venture Out movie nights, as well as the regularly scheduled planning commission and city council meetings. City leaders want residents to be open about their ideas and tell them what they like about Millcreek, what they want to save, and what they would like to see improved. "We will use that feedback as our guide for the long range vision of Millcreek," Silvestrini promised.
With the tireless work of government officials and active, engaged citizens, the future indeed looks bright for Utah's newest city.
Read more from the Utah League of Cities and Towns on DeseretNews.com or visit their website at ulct.org.