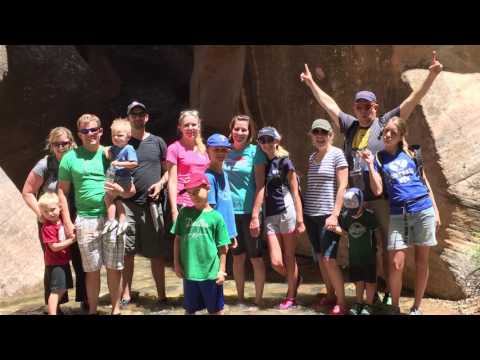 View 6 Items

BrandView
This story is sponsored by Utah League of Cities and Towns.
Click
to learn more about Utah League of Cities and Towns.
For years, Kanarraville Falls was one of southern Utah's best-kept secrets. The nearly five-mile hike leading to a slot canyon waterfall used to be known only by residents of the small 355-person pioneer town of Kanarraville and the lucky few who stumbled upon it. But in recent years, that's all changed.
Kanarraville Town Clerk David Ence explains, "Kanarraville first noticed an uptick in popularity after the 2012 eclipse. That year, we had about 10,000 people descend upon Kanarraville and the surrounding areas. Since then, we've noticed a big increase every year."
Kay Carter, Kanarraville resident and business owner, agrees, "The falls is just something that people want to see. And once social media got a hold of it, with photos of the canyon and the waterfall flooding Facebook and Instagram, that was it. We've had people come from Australia, London, Nigeria, and from back East stay at our hotel. We've met a lot of different people."
"The BLM estimated that Kanarraville had 40,000 to 45,000 visitors last year," said Ence. "Our internal estimates put that number a little higher. We think that as many as 60,000 people hiked to the falls last year."
This means that on a normal day, there are usually 150 to 200 people in the canyon. On weekends and holidays, that number can balloon to up to more than 800 hikers. Of course, if you've ever been on the hike, it's easy to understand why it has exploded in popularity.
"The hike is unique because it's a small, intimate canyon and has some of the best narrows you'll ever see," enthused Ence. "It's green and cool. There are pools to splash in and ways to have all kinds of fun."
Janet Cherrington from Saratoga Springs, who recently spent a day on the hike with her family, agrees, "It's a super fun hike and so beautiful up there, but not too difficult. In past years, we've had babies all the way up to a 70-year-old grandpa go on this hike. It's so awesome because we can all do it together."
The influx of people has brought the town some needed revenue, largely from a paid parking lot, but the stream of hikers going through the canyon has also created some challenges, primarily in protecting the town's water source: a spring located in the canyon.
"People who hike the canyon walk right by the spring," Ence explains. "So our main concern is that the water source, which produces water for the town all 12 months of the year, will become contaminated."
The town is trying to determine the best ways to protect their water supply, but since the falls are located on Utah School Trust Lands and the BLM also owns several acres of the canyon, coming up with solutions will have to be a collaborative process.
Ence lists some of the solutions that the town would like to see, "First, we'd like to keep all dogs out of the canyon. This will go a long way to protect our water. Second, we put toilets in the parking lot that we'd like all hikers to use, even if they're not parked there. And anyone who has to go to the bathroom along the trail should clean it up and pack it out."
"Just be respectful of the canyon and the nature up there, because once you destroy it, there's no taking it back," admonishes Carter.
In addition to keeping the trail clean and sanitary, Kanarraville is also discussing with the BLM and Utah School Trust Lands ideas for how to limit the number of hikers, including a lottery or an application/permit system.
"A lottery system is a good way for the BLM and other public institutions to allow people to go in on a fair basis," said Ence. "For example, in Kanab, the Wave hike is a lottery system. They allow 20 people in per day and that's that. And the Subway hike in Zion is an application system. So there are many ways we can restrict the number of hikers, but keep the canyon accessible."
No decisions have been made on how or if the number of hikers that can explore Kanarraville Falls will be restricted. But in the meantime, hikers should be respectful, knowing that maintaining a pristine environment is part of what makes this hike so special.
"The town of Kanarraville is not against hikers at all," Ence reiterates. "We are simply concerned about our water supply and making the experience as pleasant as possible for the people who come."
Read more from the Utah League of Cities and Towns on DeseretNews.com or visit their website at ulct.org.